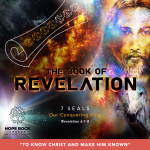 Revelation 6:1–2 (ESV)1 Now I watched when the Lamb opened one of the seven seals, and I heard one of the four living creatures say with a voice like thunder, "Come!" 2 And I looked, and behold, a white horse! And its rider had a bow, and a crown was given to him, and he came out conquering, and to conquer.
In the opening verses of chapter 6, we encounter the first of the "four horsemen of the apocalypse", and the question for us to unpack, is what does both this horseman, and the other three horsemen represent? We ask that question because it's in understanding these horsemen that we will gain a deeper understanding of how they ultimately affect both us as the Church as well as the world at large.
And while some of these judgments are scary and will no doubt affect us as the church, the good news that we must never forget is that all of this is happening under the Command of Jesus, who is on His Throne.