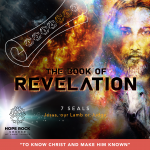 We are still in our Revelation Series and today we looked seal 5 & 6, both of which will be covering some pretty tough, albeit encouraging topics i.e.,
Revelation 6:11 (ESV)11 Then they were each given a white robe and told to rest a little longer until the number of their fellow servants and their brothers should be complete, who were to be killed as they themselves had been.
1. Those who lay their lives down for the Lord will find vindication and will be rewarded greatly in the life to come.
2. Our faith in God, His Son Jesus, and the Holy Spirit will be vindicated (on the day of the Lord) as the entirety of the world realizes that there are only two ways we can encounter the King of the Universe i.e., either as our Redeemer or our Judge.
The good news, there is still time for those that don't believe, to make the right choice and find the love and acceptance that only Jesus can give both on this side of eternity and the next.