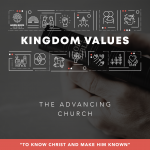 If we believe what Jesus said to Peter (as it relates to the church),
Matthew 16:18 (ESV) 18 And I tell you, you are Peter, and on this rock I will build my church, and the gates of hell shall not prevail against it.
Then surely, it is up to us (as those within God's Church) to figure out how we, too, can become a church that the Gates of Hell will not be able to withstand. We look at both the Church as a global movement of God (and its purpose in this world) and in that how local expressions of "The Church" fit into this bigger mandate by how we operate in and engage with the people God has called us to reach.